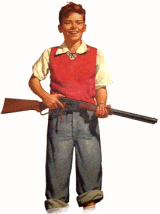 Welcome to our new online store! Now you can get your Daisy Museum Collectibles, Limited Editions and Daisy Outdoor Products here!
The Daisy Museum is the only place in the world that offers EVERY Daisy product.
An affidavit verifying the purchaser's age must be on file with the Rogers Daisy Air Gun Museum before shipment of any orders for air guns or slingshots will be made.